THE KITCHEN
Feeding your performance
We have worked closely with our partners at the English Institute of Sport to design menus that suit whole teams or particular sports disciplines. In conjunction with James Moran, Performance Nutritionist at EIS, we have tailored our operation to the specific needs of elite athletes. Whether that is the use of food stations that discourage plate loading, the colours of the dishes that encourage the right choices, or the psychology of buffet layout to discourage overloading on protein or carbs, our restaurant will give you the confidence to make the right choices for your performance goals.
The menus themselves have been crafted by Imago Venues chefs whose reputation is for delivering first class, award-winning dishes, along with our EIS partners to ensure the right combination of taste, presentation and nutritional value. The kitchen area and servery are designed for show cooking which adds an element of excitement to the food, whilst allowing athletes to see the ingredients and techniques being used.
There are subtle performance nutrition touches on the menu: foods such as beetroot and spinach that are high in nitrates to improve blood flow and oxygen delivery to the muscles of athletes; jellies to promote tendon and ligament health and foods that are naturally high in probiotics to support digestive health. However, the main aim of The Kitchen is to deliver delicious, nutritious food in a relaxed atmosphere specific to the individual needs of elite athletes.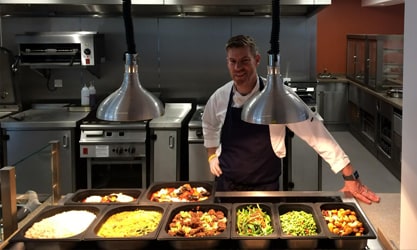 The Kitchen seats up to 38 guests at any one time but we also have the flexibility of extending in to the seminar area, adding a further 32 covers. All of the seating in the restaurant has been chosen in consultation with athletes and accommodates what they need in terms of comfort and support. We also have an outside seating area overlooking Loughborough University's historic running track and, with so much natural daylight flooding the restaurant, you'll also be getting a healthy dose of vitamin D.
Our chefs are also on hand to offer support. Far from being confined to the kitchen, unseen by the guests, they will be on hand to discuss the food and support with recommendations to maximise the experience and nutritional value of each plate. Our opening times are based on our experience of common times that our athletes want to eat, but we know that flexibility is key and can open outside of these core hours when necessary*.
A big part of our role is to ensure that an athlete is fuelled to train in a way that allows their body to maximise it's adaptive response, as this is what ultimately enables them to improve. This means we advise athletes on what to eat before and after training to fuel the session and assist with recovery from it. James Moran, Performance Nutritionist, English Institute of Sport
* a small supplement charge is applicable
Finding THE KITCHEN on campus
Our nutrition offer is at the very heart of the hotel. The Kitchen is open to University residents and partners to drop in and sample the most nutritious food on campus!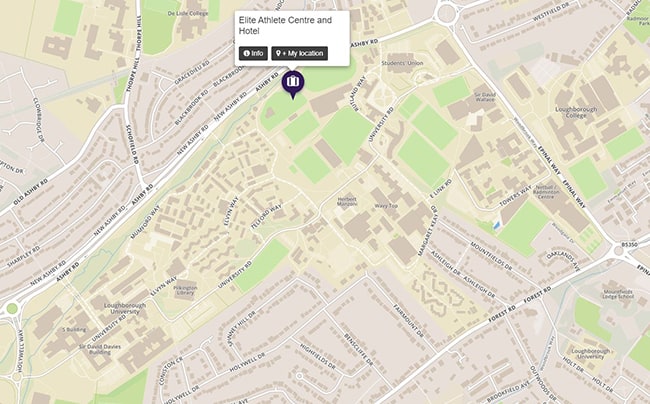 View interactive campus map