Altitude accessible rooms
Using our altitude rooms
Sleeping at altitude should form part of a coordinated training plan and not be used for recreational purposes. For safety reasons, you would be required to slowly acclimatise to your required altitude level.
Four Altitude bedrooms are fully DDA compliant, allowing disabled athletes to benefit from hypoxic conditions. Our simulated altitude system goes from sea level to 5000m (Everest base camp) allowing you to sleep high and train low.
Athletes have long been aware of the benefits of sleeping at altitude which, when incorporated in to your training routine, can have significant performance gains.
Our altitude bedrooms are fed with a constant flow of air, either hypoxic or normoxic, to prevent an increase in respired carbon dioxide, and also bacteria and odours. The bathroom and lobby areas are separate from the altitude chamber and act as a buffer to best serve the hypoxic air supply to the bedroom.
Once the room is at the desired altitude, the oxygen percentage will remain within +/-0.1%. Each room has 2 oxygen sensors which regulate the oxygen concentration in the air flow at either 10%, 7% or regular 20.9% oxygen content.
It takes approximately 70 minutes for the room to come up to 2000m atitude and 240 minutes to come up to 5000m. This can be pre-programmed on a timer so that your room is at the desired altitude for your arrival.
If you would like more detail on our accessible facilities, entry level showers, left-right transfers or any other general information, read our Access Statement.

Individual control of altitude for each bedroom
Stable air flow rate to each room, irrespective of number of rooms in use.
Possibility to extend ceiling on selected rooms 5,750m to aid rapid mountain ascent attempts.
Individual room LCD screens
PLC controlled system (no PC or Windows based items)
6ft zip and link twin beds
Wide door frames to accommodate wheelchairs
Our 8 DDA compliant rooms are interconnecting
Room dimensions – approx. 184 sq ft
En suite bathroom
42" Flat screen TV
Free unlimited 1Gbps Wi-Fi
Freeview
USB charger points
Complimentary toiletries
Tea & coffee making facilities (removed on request)
Fridge
IMPORTANT NOTICE:
Bedrooms will not be set at altitude until the guest has completed our health and safety pack.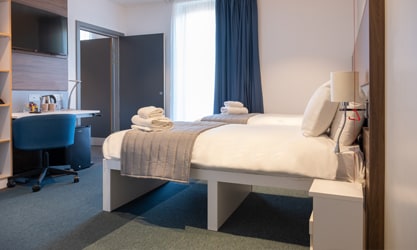 Twin accessible rooms
All our bedrooms have been designed to meet accessibility requirements with 8 being fully DDA compliant.
Find out more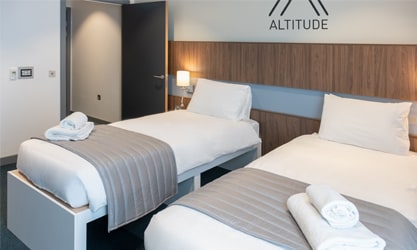 Altitude standard rooms
From sea level to 5,000m (Everest base camp), our 20 altitude rooms allow you to sleep high and train low in simulated hypoxia.
Find out more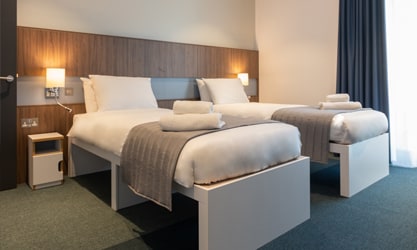 Twin standard rooms
24 of our 44 bedrooms are standard twin rooms with 7ft zip and link beds and extra touches designed specifically for athletes.
Find out more