Rooms
Using our altitude rooms
Sleeping at altitude should form part of a coordinated training plan and not be used for recreational purposes. For safety reasons, you would be required to slowly acclimatise to your required altitude level.
The Elite Athlete Centre and Hotel offers specialist accommodation designed specifically for athletes with 44 twin en-suite bedrooms including 20 altitude rooms.
Sleep, rest and relaxation are vital parts of your training routine and recovery process. All of our rooms are furnished with en-suite bathrooms and 7ft twin beds in standard rooms; 6ft twin beds in accessible rooms.

All of our bedrooms have been designed to meet accessibility requirements. Eight are fully DDA compliant with interconnecting rooms and four of those eight are altitude bedrooms.
All rooms are well-appointed and designed in consultation with elite athletes and include extra little touches such as:
1Gbps Wi-Fi network to keep you connected in your downtime
7' twin beds
Distraction free rooms to give you optimal sleep conditions
open wardrobes and storage areas to accommodate large luggage and sports equipment
42" flat screen TV
fridge
hospitality trays (removed on request)
hairdryer
luxury toiletries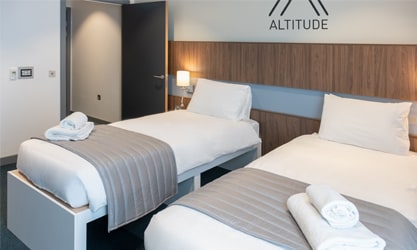 Altitude standard rooms
From sea level to 5,000m (Everest base camp), our 20 altitude rooms allow you to sleep high and train low in simulated hypoxia.
Find out more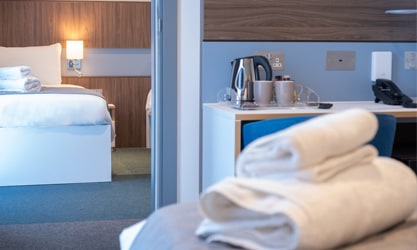 Altitude accessible rooms
Four of our 20 altitude rooms are accessible and fully DDA compliant, allowing any athlete to benefit from hypoxic conditions.
Find out more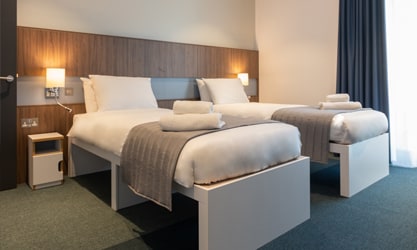 Twin standard rooms
24 of our 44 bedrooms are standard twin rooms with 7ft zip and link beds and extra touches designed specifically for athletes.
Find out more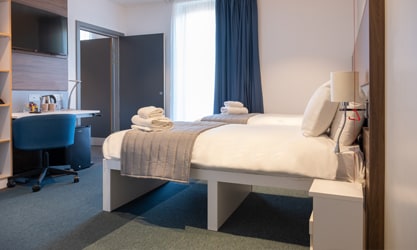 Twin accessible rooms
All our bedrooms have been designed to meet accessibility requirements with 8 being fully DDA compliant.
Find out more
We've worked with Luke Gupta, English Institute of Sport, to come up with these Top 5 Tips for a good night's sleep:
Try to maintain your personal sleep routine while you're away from home as much as possible – this habitual routine will act as an important behavioural cue for sleep to readily occur.
Be sure to take the time to unpack, set out your belongings such as your pyjamas, toilet bag, clothes for the next day etc – this can help you feel more settled in an unfamiliar bedroom.
Take some time to familiarise yourself with the air-conditioning / heating and lighting in the room and be sure to set these to your preference prior to leaving the room for the evening in preparation for returning to sleep – coming back into a room that is dimly lit and cooler in temperature will help sleep occur more readily
Make sure you pack any items like photos, books, blankets, and even consider taking your own pillow, and place these items around the room to help familiarise yourself with your new personal space.
The bed in your hotel room should be used for sleeping only. Activities like reading, working, or even eating in bed can make it difficult to sleep because these activities are associated with being awake – instead, use the desk space or a comfortable chair in the room for these activities.