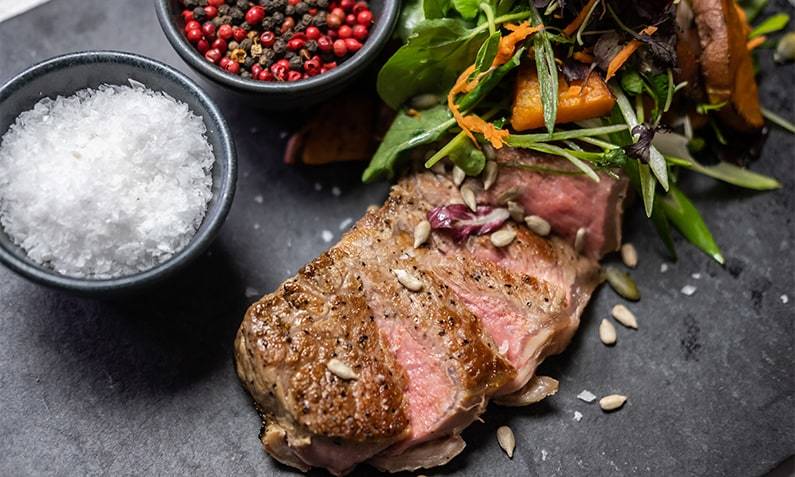 Getting the right nutrition on the road
1 Nov 2018
Getting the right nutrition on the road
The travelling athlete needs to choose accommodation wisely when moving around the country for competition or training.  Travel may vary from the simple comfort of a friend's spare room to the luxury of a five-star hotel, and everywhere in between.  Most appropriate, though, is somewhere that balances rest & relaxation with the right training facilities to keep you in shape and performing to optimum levels.  Let's face it, any hotel visit is more than likely to include some form of refreshments and food intake. This is where the challenges start from a nutrition point of view.
Chris McLeod, PhD student in eating behaviour, Loughborough University explains:
"An athlete might theoretically know what is right for them; they might have received advice from professional nutritionists and had a strict diet created for them.  However, even the strongest desire to win at the highest level is put under pressure by the sight of the average hotel breakfast buffet.  A committed athlete might be able to walk past the obvious foods they shouldn't eat, but what about challenges such as portion control, cooking methods and ingredients that might not be right for their diet.  It is therefore up to the accommodation providers to provide an environment that is conducive to optimal training, which includes the right fuelling and refuelling choices."
It is in the very DNA of most hotels to provide hospitality. What that tends to mean is generous service and an abundance of food and beverage options.  For many chefs and food and beverage managers, this means creating great tasting menus where quality and flavour potentially outweigh nutritional value.  They are looking to create an environment where their guests feel satiated, relaxed and looked after. A lot of effort is put in to presentation, menu design and visuals – effort that is designed to make you consume more. Such an environment is not the ideal place for an athlete in training.
Choosing the right accommodation is far more complex than the difference between a three, four or five-star room, continues McLeod.  In fact, he goes on to say that there is a need for accommodation and training providers to think about the psychology of those staying with them: "To perform at their best, eating behaviour and food psychology are as important as the nutritional values and ingredients in the food itself.  We therefore need to help athletes by making the right foods available and accessible.  It is less a matter of control and more a case of supporting players by directing their behaviour in the right direction – ultimately the choices are their own, but we can help by giving them the best possible options in the first place."
This attitude to training and nutrition is fundamental to the processes and system behind Loughborough University's new Elite Athlete Centre and Hotel (EAC).  The team are working in partnership with UK Sport, Sport England and English Institute of Sport to create a world leading training facility that meets the unique needs of high performance athletes.  Whether in training for the Olympic Games, in pre-season training or post event recuperation, the EAC provides athletes with a world class high performance environment, ensuring they can perform to the best of their ability.  In addition to the wider sporting facilities on campus, the EAC offers athlete-focused accommodation with altitude-controlled bedrooms, appropriate rest and relaxation facilities and the right nutrition to support their training goals.
To establish the EAC as a world leading facility, Loughborough University are working closely with key players across sports development, nutrition, training and performance.  Kath Grainger, Britain's most decorated female Olympian and chair of UK Sport, had this to say about the new facility:
"UK Sport is a world leader in the development of elite athletes and I am delighted that Loughborough is continuing to play a fundamental role in the advancement of top level sport.  This investment will create a unique facility that will be of huge benefit to all involved.  In particular, the decision to focus on nutrition will be key, as it is such a fundamental building block when it comes to successful performance."
Finding the perfect accommodation with the right nutritional focus is a challenge facing the whole sporting sector, particularly when it comes to accommodating the needs of individual athletes.  This is a key reason why lead nutritionist for British Athletics, Sophie Killer, is endorsing the EAC's approach to nutrition.  "Finding the right environment to train can be difficult.  There are many places with great sporting infrastructure but this is the first time such facilities have been joined up with accommodation and hospitality that focuses on the specific needs of elite athletes.  Most important, though, will be the EAC's ability to tailor to each athlete, delivering what is best for them as they strive for excellence."
It is this need for a bespoke approach that is so important when it comes to nutrition.  It goes without saying that everyone's body is unique and, therefore, their training and nutritional needs are different.  This is something easily tailored when at home or in a tightly controlled training camp environment but is so much harder to achieve when on the road.  It is this need to provide bespoke solutions that presents the biggest challenge for the EAC team. However, right from the design concept, the team have focussed on the individual athlete and built solutions in to the design and build process from the very start.  "The future of sports nutrition is all about individualisation, allowing practitioners to be specific with their recommendations" comments Kurt Bergin-Taylor, Lead Performance Nutritionist, Loughborough University Sports Science Service.   "The EAC nutrition project has been a collaborative effort between the University, UK Sport, EIS and national governing bodies based on campus. This has allowed us to really tailor the facility to provide a world leading, bespoke eating experience for elite athletes".
James Moran, Project Lead Nutritionist on the EAC backs up this approach by looking at the ethos of the catering offering at the new hotel:
"Ultimately, the EAC's food ethos is to provide a world class performance nutrition environment which enables elite athletes to meet their individual dietary needs.  However, delivering a bespoke plate of food, perfectly suited to each individual athlete in any environment, even the home, is a real challenge. That's why the team at the EAC are working so closely with leading nutritionists to create the best possible offering for their guests."
In particular, the catering team are designing menus containing scalable options from the key nutrition building blocks.  Athletes, their coaches and nutritionists can choose to have more or less of each individual element to suit their requirements and training needs.  In addition, the EAC will be supporting this process through the eating environment. Signage will help educate and reinforce core nutrition messages, whilst the use of food stations will encourage athletes to move around and discourage the plate loading that often occurs in a traditional buffet.
Loughborough University's head of catering, Gagan Kapoor, is also keen to point out the human element: "The chefs themselves will also be on hand to offer support. Rather than staying in the kitchen, unseen by the guests, they will be on hand to discuss the food on offer and where possible support by making on the spot recommendations to maximise the experience and nutritional value of each plate.  Too often, nutritionally controlled food has a reputation for being bland and uninteresting, so the chefs will also be working diligently to ensure the food is flavoursome as well as wholesome, as they work with local suppliers to make everything as fresh and healthy as possible.  As the whole offering comes together, the menu and environment will serve as a vehicle to educate and empower athletes to achieve their health and performance goals through fresh, sustainable and locally sourced ingredients, which will in turn enhance athlete health, recovery and performance."
Players and coaches who are looking for accommodation need to consider the benefits of staying at places designed for their bespoke needs. Those specific needs are only met through great communication and collaboration with the player, managers, coaches and performance directors.  Mark Davies, Head of Sports Facility Operations and Customer Service, Loughborough University, comments;
"It is vital for a player and their support team to liaise with accommodation providers to deliver the right options.  In our case, to ensure the best possible results, our on-site chefs, sports science experts and nutritionists are looking to work directly with players, coaches and nutrition experts to create bespoke menus that provide the ideal amounts of fuel for a player to train and play at their best."
Individualisation might sound tricky, but it should be nothing new to the hospitality industry. The hotel sector knows how to listen to and understand the needs of its guests. Whether it's sourcing the best tickets and tables in town, obscure room service requests in the middle of the night or pillow menus to suit every eventuality, hotels listen to and understand the needs of its guests and provide them with a good experience.  "Nutrition is simply the next evolution," comments Kay England, Chief Executive of Imago Venues, who will operate the EAC.  As the operators of the EAC, the Imago Venues' team will face challenges previously unknown to the hospitality sector.  However, much like the athletes using the EAC, our team are the elite in their own field and relish the opportunity to deliver something unique in the market.  We are already seeing high levels of interest from a variety of groups and individuals looking to use the facilities.  From the sales team through to operations and catering teams, great customer service is always at the heart of our delivery in all of our other venues. That same ethos will be fundamental to the success of the EAC."
Davies concludes: "Ultimately, through a flexible and choice-focused approach, it is possible to deliver something that works for everyone.  Once that collaborative approach is combined with the right sports facilities, accommodation and relaxation offer, they can experience something truly ground-breaking that benefits the elite players of today and tomorrow."
The message is clear:  making the right accommodation choices goes way beyond the star rating, Wi-Fi connectivity or décor. Choices need to be made based on the individual needs of each person and their training regime; they need to consider facilities that go far beyond just a standard hotel gym and they certainly need to consider the food on the menu and nutritional value of each portion served.